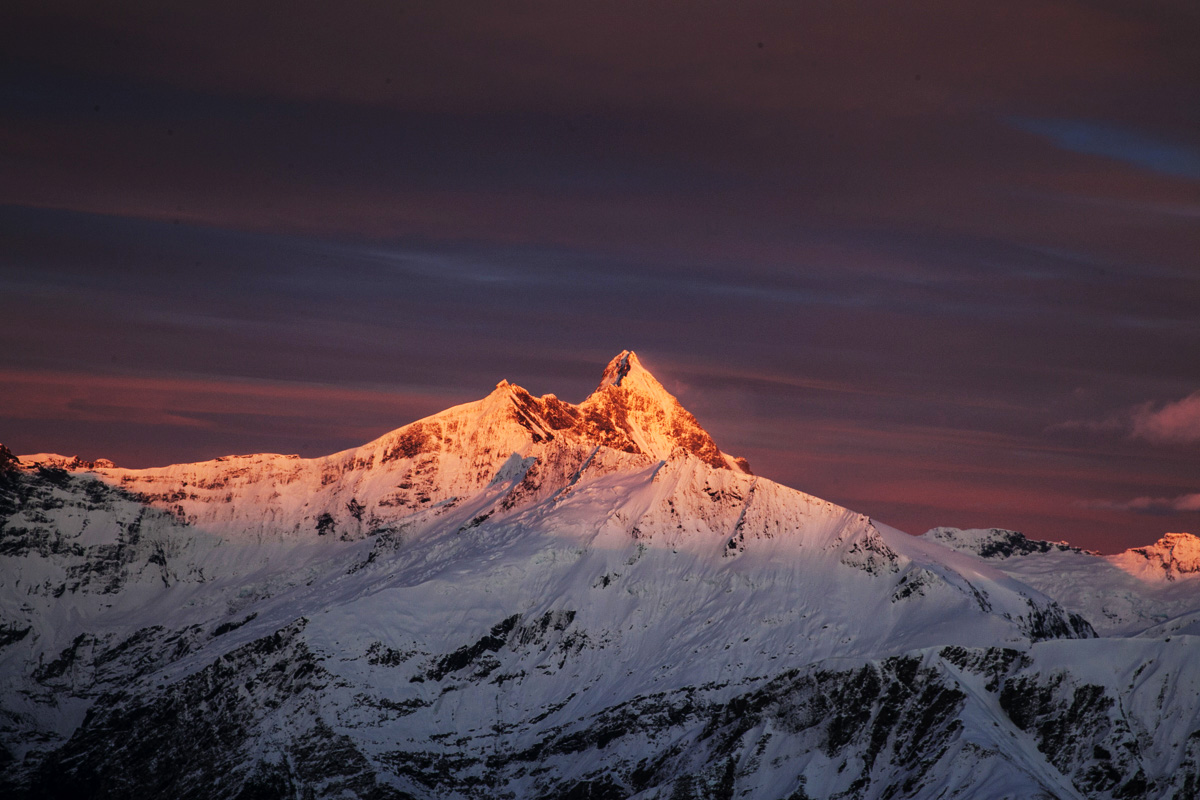 Tititea at Dawn from the Albert Burn Saddle.

In an earlier post I paid homage to Paul Powell and his role in the naming of Mt Dragonfly and mentioned his wonderful mountain writing – especially his book "Men Aspiring". His preface in the book was his own poem titled The Mountain Tree – which is about a very distinctive silver beech tree with heaps of character at Junction flat (the junction between the Kitchener stream & the East Matukituki), which is directly below the chalet and the Albert Burn saddle.
Here is the first verse of the poem which he wrote in 1960. Though his first visit to Junction Flat and his initial connection with the tree was in 1943.
When I was young and burned to roam
On thrusting spire and corniced dome,
All hill bewitched I swagged the scree
And heedless passed the mountain tree.
The mountain tree, the mountain tree,
I heedless passed the mountain tree.
When I too was young and a staunch member of the Massey University Alpine Club, The Mountain Tree was something of an anthem for us and was regularly repeated verbatim and in loud unison as we trudged our way up various riverbeds in the southern alps (along with other excerpts from alpine writers such as F.S. Smythe et al. . On each of the several occasions that I have tramped up into the East Matukituki & Junction Flat, I have saluted the mountain tree and paid my respects to Paul Powell.
HERE is a link to the entire poem.
Today I discovered that Peter Wilson, another keen Dunedin climber and mountain man extraordinaire, has written a wonderful review of Men Aspiring and its place in NZ Mountain literature. I concur fully with Peter's conclusions. HERE is a link to the review. Danilo Hegg has written an excellent review of one of Paul Powell's (who was a dentist by vocation) other well known books -"Just Where Do You Think You Have Been" Click HERE to read that review.
I hope to bring you further snippets and fresh imagery over the next few weeks.
PS HERE is a link to another poem written in the West Matukituki Valley in 1949 by James K Baxter.