Late yesterday afternoon we returned to our wonderful artist retreat programme at 6000 ft asl above the East Matukituki Valley and just across from Mt Aspiring / Tititea. & what a joy it is to be here again. This time we are here for 12 days or so to continue my work with creating time lapse sequences of the dramatic changes in light and weather her as well as several other projects
The weather on the flight in with Charlie Ewing of Aspiring Helicopters was fantastic and the forecast looks great for several days.
The views were quite different to when I was last here in September with much of the surounding snow melted. Here is one of our first views of Aspiring from the chalet with orographic cloud swirling over the volta glacier in the lee of the big mountain.
This time I am accompanied by my wife Robyn who has been here before in the autumn about seven years ago. She is really pleased to be back too. You will hear more from her later.
Our comical Kea family friends were anxious to greet us with two new juvenile additions to the family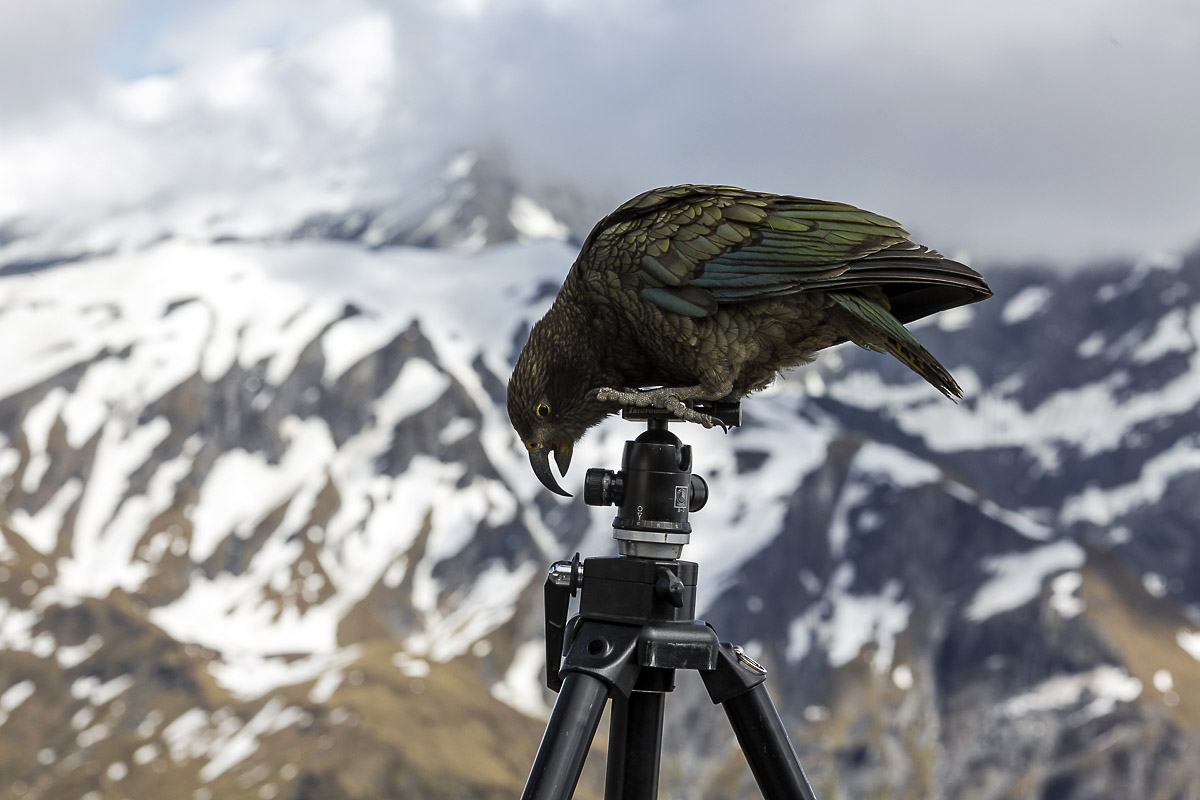 Here one of the adult birds carries on from where he left off last time and continues his attempt to wreck all of the rubber parts of my tripod head.
While one of the youngsters shows off.
The visual effect of the last sunlight on Mt Aspiring was as stunning as ever.
Not long after the the stars were rising in the western sky above Aspiring & Rob Roy
Ive mentioned previously that the clarity of the night sky is spectacular. Here is a view to the south east with just a standard lens.
This time we are somewhat limited with the ability to upload video & time lapse sequences so will share these with you on our return.
This afternoon our son Brook arrived with a friend Rose Battersby a fellow adventurer. They promptly left for a climb of Mt Dragonfly (2165 metres) above the saddle to gain stunning 360 degree views.
Here is one of Brook's images from near the summit.
Rose and Brook will be walking back down to Cameron Flat at the Junction between the East & West branches of the Matukituki valley tomorrow. They will join the high level track from Junction Flat above the Bledisloe Gorge to Ruth Flat. The stunning East Face of Mt Fastness which regularly enthrals us from here rises directly from Ruth Flat.
Ill leave the last word for tonight to Robyn. This is her very first Blog Posting so let us have a good drum roll please.
What a delight to be in the chalet looking out on such a spectacular landscape. As on the last trip James has loaded us up with a delicious array of fine food. Last night's salmon with salsa verde and fennel and orange salad was superb.
I think I'm following Erica in falling completely for the crazy keas. The antics, particularly of the half feathered youngsters, is hilarious. Trying to walk with their pigeon toes along the deck rail is a real challenge: one has mastered quite a nifty wide step while the other flounders along with feet and wings in all directions – laugh out loud entertainment.
Click On Any of the Images for a Full Screen View